Last Friday had seen Northampton in a 22-16 loss to Newcastle. However, that was not the only thing Northampton was to lose as they also have lost their player, Kieran Brookes to a two weeks "charging" ban.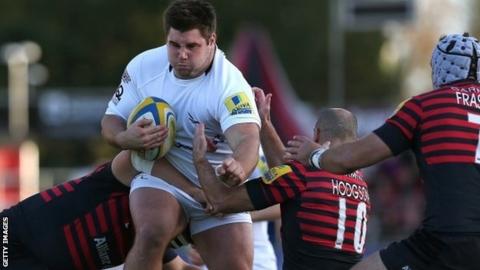 Brookes, who had joined Northampton from Newcastle last season, admitted charging into a ruck without the use of his arms, thus leading to his ban.
The 26 year old who was sent off during the match, had appeared before a disciplinary hearing on Tuesday where he pleaded guilty.
The England tight head prop will miss the Premiership game against Leicester on Saturday, and also their Champions Cup game against Leinster.
Brookes charged into the ruck, thereby using his shoulder to strike the head of Scott Lawson, Newcastle hooker inadvertently. He was dismissed in the 38th minute of the game.
His ban would end on the 13th of December.
Also, Newcastle lock, Calum Green had struck Brookes with his forearm in the same match. And while the incident had been missed by the referee, Andrew Jackson, it was cited by the citing commissioner.
Green appeared before the RFU disciplinary panel in a hearing which was held in Leeds on Tuesday night in relation to the incident, where he pleaded guilty to the charge.
After critically reviewing the incident, the panel had banned the 26 year old for one week, which would see him miss the home game of the Falcons against Harlequins on Sunday,
An statement sent out by the RFU read,
"Both of these cases were considered low-end entry points by the panel, however Kieran Brookes does not have a clean disciplinary record and so the panel did not feel able to reduce the sanction to one week as they could in the case of Calum Green."